The Energy Transition Pact: a system being further enriched
This five-year partnership between the Group and its subcontractors will help small and medium-sized businesses in the transport business convert their fleets to low-emission vehicles and find modal shift solutions for end customers. In an ongoing dialogue with the Group's branches and subsidiaries, the Energy Transition Department detects all solutions or opportunities to support subcontractors in their evolution towards transport systems with lower GHG emissions.
What the Pact has offered from the beginning:
Negotiated prices for buying or leasing new NGV vehicles from IVECO
Negotiated prices for gas purchases from energy distributors
Support in the financing process with partner banks
Tracking and information on government-financed support available locally 
And what's new:
In 2023, once the tests have been completed and Heppner's commitment to Volta Trucks has been confirmed, the Energy Transition Pact could support the Group's subcontractors in equipping themselves with this electric truck solution.

Through its Overseas division, Heppner joined the Sustainable Aviation Fuel (SAF) programme in the autumn of 2022 in partnership with Air France KLM. This partnership offers possibilities for reducing carbon emissions attributable to air freight in forthcoming years.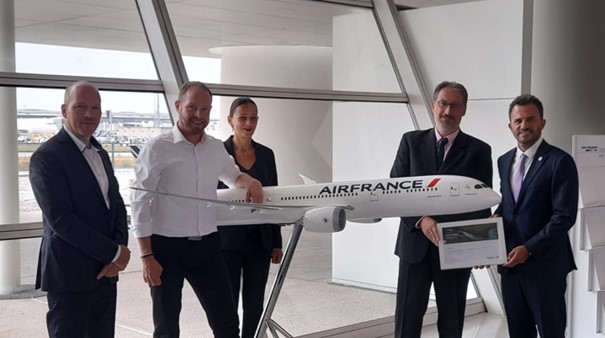 Decision-making tools
"EcoTransit" software enables full calculations for all links of the transport chain (energy consumption, GHG emissions, air pollutants). In line with current standards, this solution was made available to the Group's customers in the first half of 2022 and highlights the value of the alternative, lower-emission fleets that the Group is deploying.
Piggybacking, combining to decarbonise
Heppner is stepping up its efforts to develop piggyback (rail + road) and barge transport solutions, with the aim of doubling the tonnage using these modal shifts by 2025.
Whether at the request of its customers or on its own initiative, Heppner looks for less carbon-intensive routes adapted to the geographical location of the departure and arrival points. This expertise is being developed in cooperation with the Group's various branches, driving experience-sharing and skill development on these issues. More sustainable, these modal shifts have the added advantage of being less expensive, albeit at the cost of longer delivery times.
The example of Parker Hannifin
For its customer Parker Hannifin, Heppner has set up a piggyback system between Spain and Belgium for transporting products between the Group's sites and, in the process, reducing the GHG emissions of the activities of the American group's Low Pressure Connectors Europe Division, based in Brittany.
The development of piggybacking bears witness to our company's unwavering will to contribute to advances that will lead to a better world. Of the 1335 km that separate the two sites, 975 km are done by rail. This environmentally friendly solution provides a very satisfactory service quality for long distances: less weather and traffic-related imponderables, safer conditions for drivers and improved shipment planning. We plan to expand this transport mode to other inter-site routes.